Christmas 2010 was an unusual year, full of firsts and wonderful memories. Most notably, it was the first year since 1997 without Santa. While it was hard to let go of the magic in their eyes on Christmas morning, it also let us enjoy Christmas as a family on an entirely new level. As an added benefit, without the internal clocks going off at pre-dawn hours, I was able to get up before the rush and take pictures of Christmas morning with the most beautiful Christmas Eve snowfall through the windows as a backdrop. The dining room:
I even had time to begin setting the table for Christmas morning breakfast. Few things can displace Blue Willow in my dining room, but Spode Christmas Tree is one of them. You can see just a glimpse on the table.
A close-up of the dining room tree with the snowfall outside.
Then I headed outside. My completed-just-before-the-first-snow-flies potting shed.
Isn't it beautiful with the freshly fallen snow naturally flocking the trees.
I can't wait to do a post when the garden is full of blooms.
But nature's hand here is just as stunning.
And now we're all up. I'm enjoying my third cup of coffee (another first) and they are enjoying what it really feels like to give now that it's not all about Santa.
Though I'll probably always leave a surprise in the stockings.
The family room tree with the potting shed in the background outside.
The aftermath.
A few shots of the season.
This year I scaled back on decorations and busy work. Instead I focused on enjoying traditions and quality time. We went to many Christmas shows, musicals, and concerts, including our own kids' first band concerts and show choir concerts. We also attended several professional performances this season.
We enjoyed shopping together. We shopped the antique stores in small towns and (mostly window)shopped in the lively, hustle bustle of the city which I know many people despise, but we just love it. The sights, sounds, smells; it all enhances the holiday spirit. We made a lot of homemade gifts. We made pinecone wreaths for the wonderful teachers we have this year, we made baked gifts and citrus ornaments. I even followed the directions on one of the blogs I follow (sorry, I can't remember whose) where we crushed shells we'd collected on vacation and gorilla glued them to wooden forms to make ornaments. We baked and baked. We made gingerbread houses. We went caroling with our good friends.
We spent Christmas Eve with wonderful neighbors and then we all attended a beautiful Christmas Eve service at our church. We spent Christmas day with family and took time to enjoy the stunning snowfall by going sledding.
We enjoyed hearing from family and old friends.
But mostly, we focused on the reason for the season. While I'll miss the youthful magic of Christmas with Santa, I welcome the real magic of the season back into our lives without the commercial distractions.
On more than one occasion this season I was able to take a moment, step back, look around at the smiles, listen to the laughter, enjoy the beauty of the moment and truly appreciate and thank God for all the blessings I have.
Linking to The House in the Roses, "Show Off Your Cottage Monday" and A Stroll Thru Life "Table Top Tuesday Anything Goes."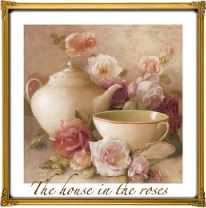 ""/>